We have created a ticket for shopping and classes in the village!
いいね!創造村/iine! Creators Colony
International Ideas for New Experience!
It is a village on the Internet that can be connected online.
The village mayor is Chiyoko.
The village has village schools, museums, public halls and a Mystery station.
Villagers (members) can take school lessons and shop at Michinoeki.
Villagers (members) learned at Shinetsu! Coworking Space,
You can give classes at school or open a store at Michinoeki.
iine! ticket that can be used in" classes "and" shopping "in the village "Was created!
【585iine!】【2525iine!】【3900iine!】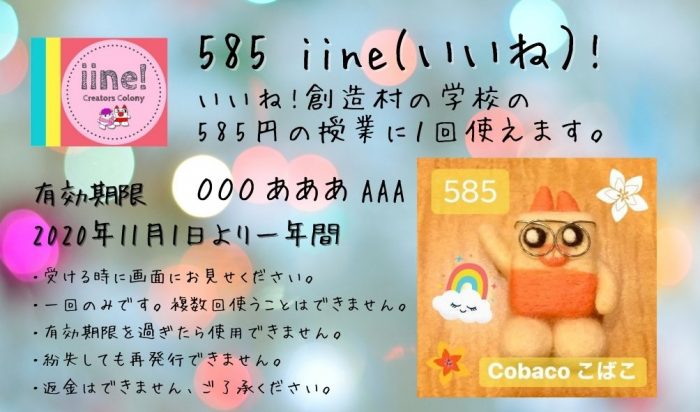 You can use it for a class at a village school for 585 yen.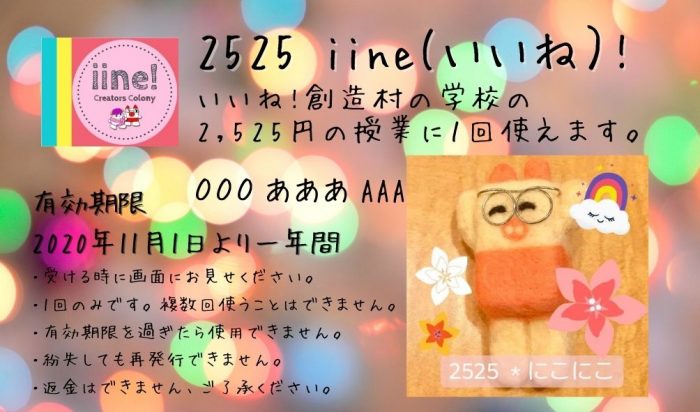 It can be used for 2,525 yen in a class at a village school.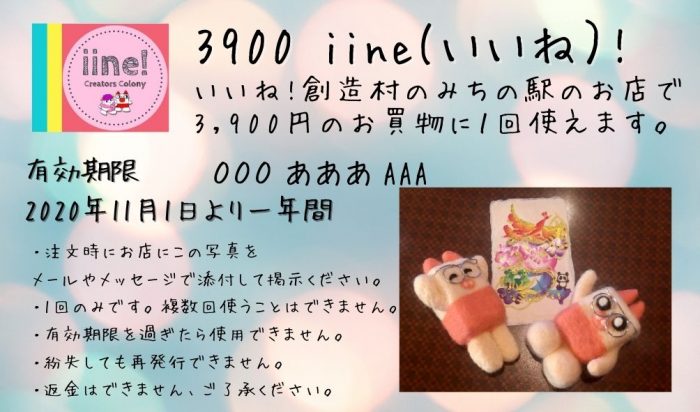 "ARIGATO NO HANAMOJI" can be used for shopping for 3,900 yen.
【How to buy】
❶Please apply from the ticket purchase form.However, since it is in Japanese, please email me directly if you do not understand.
https://xn--n8ja7j.cc/lgg-tel/
❷You will receive an information email from Chiyoko after transferring the money. Please make a bank transfer or PayPal within 7 days. Please bear the transfer fee.
❸After confirming the transfer, we will send you the ticket image as an email attachment. Please keep it in a safe place. It cannot be reissued.
❹Please post your ticket to the teacher on Zoom when you take the class.
We will confirm the number.
❺ARIGATO NO HANAMOJI
Iko-san will contact you by email. Please attach the ticket image by email and show it.
【take care】
・It cannot be reissued. Please be careful not to lose it.
・Can only be used once. Please do not use it more than once.
・Please note that tickets that are older than one year cannot be used.
・Please note that refunds are not possible.